Acupuncture is a holistic medicine that takes into account all aspects of a person, without separating the mind, body, or spirit.
Acupuncture helps tap into the body's own innate ability to heal itself.
Acupuncture can be used as preventative medicine.
Acupuncture can help to support and strengthen the immune system.
Acupuncture can assist with drug recovery, smoking cessation, and alcohol addiction.
Acupuncture can effectively treat over 50 western medical diseases or disorders, including pain, infertility, arthritis, headaches, and allergies.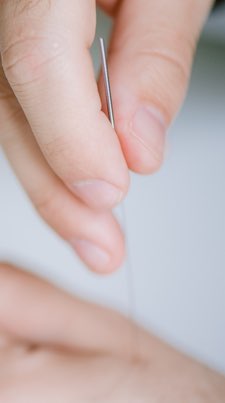 4 Most Commonly Treated Conditions
Over the past 2,500 years acupuncture has treated billions of people, helping to restore health and balance to the body in safe and natural way. Acupuncture Works! Check out the common conditions acupuncture treats below.
Pain
Chinese Medicine recognizes vital energy that circulates throughout the body, called Qi (chee). This vital energy is transported through the body via meridians or pathways and provides nourishment to every aspect of our body including our cells, organs, muscles and glands. When the flow of Qi is restricted in an area of the body, pain may be the result. Acupuncture practitioners use fine, sterile needles at specific acupuncture points to unblock these areas of stagnation, thus interrupting the pain signal. When these areas are unblocked, the body is capable of receiving the nourishment on a cellular level that it needs in order to heal.
Headaches
Being that there are many different types of headaches, there are many factors in Chinese Medicine theory that will play an important role in detecting the root cause of headaches. Your practitioner will ask you various questions regarding emotions, work, exercise, hormones, diet and trauma to diagnose what specific organ systems are out of balance and causing your symptoms. Acupuncture and Herbal medicine are very effective treatments for most types of headaches and are among the most promising of alternative headache therapies.
Fertility
The treatment of infertility and the use of Acupuncture dates back over 2,000 years. Acupuncture has a profound effect on regulating hormones and increasing blood flow to the uterus, which improves the chances of an ovum implanting on the uterine wall. Not only does Acupuncture normalize the endocrine system and ovulation it also relaxes the nervous system, which plays a key role in conception. Hormones secreted during stressful situations can significantly decrease fertility. Chinese Medicine helps raise fertility potential by affecting the flow of Qi and blood in the body and restoring balance to vital organ systems necessary to make conception possible for a woman. Acupuncture also dramatically improves ones chances of conception when used in conjunction with other assisted reproductive techniques.
Menopause
As a woman ages and produces decreased amounts of estrogen in the body, various symptoms may arise such as hot flashes, night sweats, insomnia, fatigue, mood swings, memory loss, and weigh gain. Chinese Medicine views menopause as a naturally occurring process but understands that these signs and symptoms are indicators of imbalances in the body. If these imbalances are left unchecked, the result is a variety of symptoms that the western world refers to as menopause. Acupuncture addresses natural changes in the energy systems of the body that occur as we age and restores balance to the organ systems allowing a woman to transition with less symptoms.
Common Conditions Acupuncture Treats
Acupuncture is recognized by the National Institutes of Health (NIH) and the World Health Organization (WHO) as effective in treating the following conditions:
Addiction
Anxiety
Arthritis
Asthma
Bronchitis
Carpal tunnel syndrome
Chronic fatigue
Colitis
Common cold
Constipation
Dental pain
Depression
Diarrhea
Digestive trouble
Dizziness
Dysentery
Emotional problems
Eye problems
Facial palsy
Fatigue
Fertility
Fibromyalgia
Gingivitis
Headache
Hiccough
Incontinence
Indigestion
Irritable Bowel Syndrome
Low Back Pain
Menopause
Menstrual Irregularities
Migraine
Morning sickness
Nausea
Osteoarthritis
Pain
Pneumonia
Reproductive problem
Rhinitis
Sciatica
Seasonal affective disorder (SAD)
Shoulder pain
Sinusitis
Sleep disturbances
Smoking cessation
Sore throat
Stress
Tennis elbow
Tonsillitis
Tooth pain
Trigeminal neuralgia
Vomiting
Wrist pain
See the services page for a full list of treatments.
San Diego Acupuncture services. Please call with
additional questions.